[Home] [Bolton] [Index] [Gallery] [Webcam] [Updated] [Walk] [Drive] [Links]
This is what they are doing!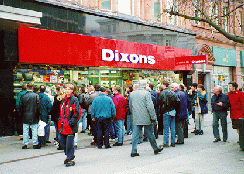 The time is about 10 minutes to 5, and Bolton Wanderers, the local football team are playing an away game. These people are watching for the final score on the window display of TV sets!
DISCLAIMER: Errors and Omissions Excepted.
[Home] [Bolton] [Index] [Gallery] [Webcam] [Updated] [Walk] [Drive] [Links]