[Home]
[Bolton]
[Index]
[Gallery]
[Webcam]
[Updated]
[Walk]
[Drive]
[Links]
Bolton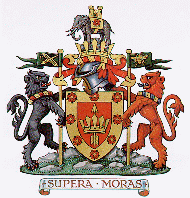 Coat of Arms
Bolton's social history has roots back to 1251, with an industrial history commencing in 1337. Today it's a major town with diverse industry. It is twined with Le Mans, France and Paderborn, Germany. The Coat of Arms, and much of Bolton, features elephants, the association and more pictures are detailed here.
Bolton Metropolitan Borough is officially part of Greater Manchester, when in April 1974, local government reorganization 'moved' Bolton from Lancashire.
Take a virtual walk around the town centre. You'll see places and buildings of interest, and what is on offer for the shopper. Shop hours are generally 9.00 am to 5.00 pm local time, Monday to Saturday. Thursday nights are late night shopping where over half the retail outlets remain open until at least 8.00 pm or even 9.00 pm. Sunday shopping applies to the same range of shops, from 10.00 am to around 4.00 pm. At christmas more and more shops open for late nights and Sundays, and the week before Christmas, usually every night is late night shopping. Market days are Tuesday, Thursday and Saturdays, and the fish, meat, and fruit market is open Fridays as well at Ashburner Street. The Market Hall on Market Street is open every day.

There are very few free car parking spaces in Bolton, most spaces are pay and display but are covered by CCTV. There are a few multi storey car parks, and a number of disabled parking spaces, and some central street short stay parking.

The telephone dialing code for Bolton and most of the borough is 01204. Some parts of Kearsley and Radcliffe are 0161 (Manchester) but the whole of Westhoughton is 01942 (Wigan). Western borders may have the 01257 (Chorley) dialling code, particularly Grimeford and Rivington area. Northern Bolton into Lancashire still retains the 01204 code, however some may be 01254 (Blackburn). Dialling internationally, the UK country code is 44, but do not dial the 0 in the numbers above, so to dial a Bolton number, dial your international code, then 44 1204 then the number.

Accident and Emergency as well as general hospital services are provided by the Royal Bolton Hospital, situated between Great Lever and Farnworth on Minerva Road. Ambulance stations are situated at a number of key locations throughout the borough. There are also a number of private hospitals, not listed here.

Here's a

collection of skyline pictures taken from the tops of car parks. This is an updated listing of changed pages. A live webcam of Bolton is available, positioned on the top of Bolton Institute.
Bolton Metropolitan Borough covers 140 square kilometres (54 square miles) and is made up of eight townships, alphabetically: Blackrod, Bolton, Farnworth, Horwich, Kearsley, Little Lever, South Turton, and Westhoughton.
Look at the social scene in Bolton, the nightlife which takes a look inside the pubs and clubs. There's also a relaxed view of the night time too.
The gallery has a number of miscellaneous images from the Bolton area, which do not fit elsewhere in these pages
To find out about the local news and events, read the latest copy of the Bolton Evening News on sale six nights a week.
Tower FM is the local radio station for Bolton and Bury, on 107.4 FM.
The Bygone Bolton video project is looking for old cine film of past events in Bolton (or in fact any English town). Roy Newsham is attempting to preserve moving images and the donators of suitable film are rewarded with a compilation of old clips, showing a town in the days before video.
John Taylor is a Bolton resident who survived a heart attack, and now maintains the Bolton Cardiac Support Group homepages, aimed at cardiac patients and their carers alike. They also have links to other Bolton voluntary groups.
Genealogy sources
Bolton District Family History Society have a web-page about their forthcoming events. The Salvation Army in Bolton also unite long lost Bolton families. You can contact Malcolm Wilson on +44 (0)1204 521090, or write The Salvation Army Church, 102 St. George's Road, Bolton, Lancashire, UK. The central library also have a very large resource but is is not online.
Freeway Internet is a local service provider for Bolton, and I'm grateful to them for the use of aerial picture in the gallery.
There's a Bolton in Massachusetts, USA, and a virtual visit is possible here.
You can also read about weather and the geology of Bolton.
It's not possible to pass Bolton without mentioning the football club Bolton Wanderers. They have a new stadium at Middlebrook, near Horwich.
[Home] [Bolton] [Index] [Gallery] [Webcam] [Updated] [Walk] [Drive] [Links]
DISCLAIMER: Errors and Omissions Excepted.