[Home]
[Bolton]
[Index]
[Gallery]
[Webcam]
[Updated]
[Walk]
[Drive]
[Links]
Horwich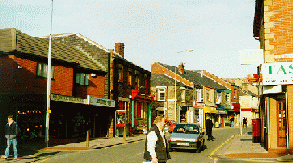 The name of Horwich is thought to come from the Old English words of "har" and "wice", meaning the grey wych-elms. According to the oldest records, wild boar used to be hunted in the forest during the 13th Century, and this fact is reflected in the Coat of Arms with a deer. Horwich is twinned with Crowborough, East Sussex. Early industry was concerned with the cotton trade, most homes had some form of weaving equipment, and a major bleachworks as well as a few mills when mechanisation arrived, powered by waterwheels. A few coal mines and and a sandstone quarry also supported the economy. Trams ran from Bolton into Horwich until the 1940's.

The official page for Horwich is at http://www.horwich.gov.uk/, and there is another web page for Horwich at http://www.horwich-online.co.uk/

Another page is located at http://communities.msn.co.uk/HorwichBoltonLancashire/

Old Station Park has a website at http://www.oldstationpark.org.uk/

Horwich Parish CE School has a web site at http://www.hpces.co.uk/

Horwich has a market hall, and there are Sunday "car boot" stalls, and a market proper on Tuesdays and Fridays. One seller at most days is http://www.good4two.co.uk/.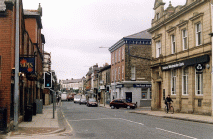 Looking across the top of Winter Hey Lane. On the left is a bookshop, at http://www.bottbooks.com/ specialising in rare and transport, but also having a good local history and interest section.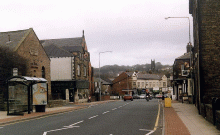 23k GIF 68k JPEG Lee Lane towards town centre March 2000
Horwich parish church tower can be seen.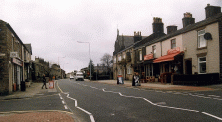 Out towards the junction with Rivington Park Avenue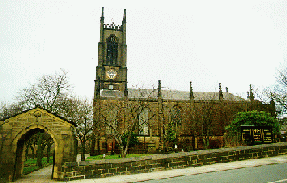 The foundation stone for this this church was laid May 21st 1830, and completed in 1831. A chapel is recorded as existing in 1565, a larger one was built in 1782 for the rising population, and then this one, larger still but on the same site. Church Street rises up to Chorley Old Road to Wallsuches.


Other churches include the New Independent Methodist, built on Lee Lane in about 1908

In 1884 The Lancashire and Yorkshire Railway established its locomotive works in this town, and it became one of the six major railway towns in the country. The town became internationally recognised for its railway craftsmanship for the next 99 years, until the closure of the yard in 1983. Today BAE Systems (formerly British Aerospace) have a major works at Lostock, which started making propellers for deHavilland in 1937. A variety of other industry still takes place including papermaking.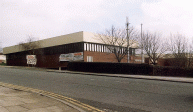 17k GIF 55k JPEG Horwich leisure centre March 2000
A leisure centre and pool was opened by Princess Anne in 1975. The leisure centre hosts various facilities, including squash, a gym, and a large sports hall. The phone number is 01204 334488.

Go down Crown Lane down to Tanners Brow.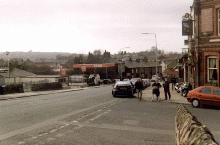 24k GIF 80k JPEG Church Street Horwich view south March 2000
On the horizon you can see the church at Blackrod this view faces towards Lee Lane with the leisure centre behind you.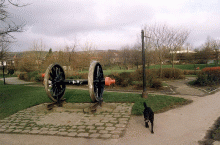 Marking the effect of the railways, these wheels are what is left of an industry, a monument to this town.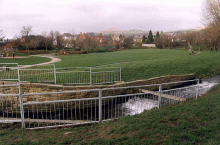 Horwich is the gateway to Rivington and Lever Park, beneath Winter Hill. West is Grimeford.
Go east from Horwich to the Beehive roundabout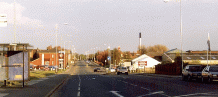 15k GIF 53k JPEG A673 Chorley New Road out of Horwich April 1999
This also links up with the M61.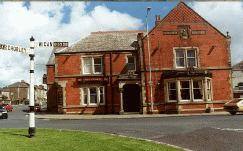 At the west end of Horwich, facing east, is the Crown.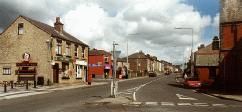 22k GIF 68k JPEG Lee Lane into Horwich May 2000
To the north of the Crown is Lee Lane heading into Horwich town centre.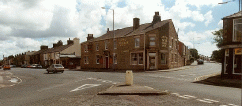 22k GIF 61k JPEG Toll Bar Pub top of Crown Lane Horwich May 2000
Crown Lane leads down to Tanners Brow. On the left is Chorley New Road.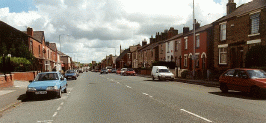 25k GIF 63k JPEG Chorley New Road Horwich May 2000
The view down Chorley New Road which leads past the end of Winter Hey Lane, and ultimately to the Beehive.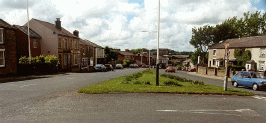 26k GIF 70k JPEG Scholes Bank from Horwich May 2000
Facing east out of Horwich into Lancashire, Scholes Bank, and to the right of this picture is Lever Park Avenue, seen in detail in the Rivington page.


DISCLAIMER: Errors and Omissions Excepted.

[Home] [Bolton] [Index] [Gallery] [Webcam] [Updated] [Walk] [Drive] [Links]