[Home]
[Bolton]
[Index]
[Gallery]
[Webcam]
[Updated]
[Walk]
[Drive]
[Links]
Coat of Arms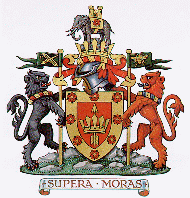 This crest was designed in 1974. The eight towns are represented by the red roses on the shield, the arrow a pun for "Bolt" and the crown representing a 'tun' (settlement within a stockade), thus "Bolt-tun".

Above the shield is a closed helm, with a wreath and mantling in red and gold. On the wreath stands an elephant upon a rocky moor within a 'tun', the red rose of Lancashire is seen on the trappings of the elephant.

The left hand supporter is a black lion from the former Bolton arms, with a red and gold wreath around its neck. The right hand supporter is a red lion from the original Farnworth coat of arms (which used to represent the Hulton family). There is a wreath of blue and gold, the original colours of the Farnworth arms.

Each supporter holds a golden staff with green pennons with gold emblems. The left pennon shows a spindle and shuttle representing the textile industry, and the right pennon a hornet for the paper industry.

The motto - Supera Moras - means "overcome delays".

The Armorial Bearings were designed by N Ellis Tomlinson, M.A., F.H.S. in consultation with Michael Cresswell, LL.B. Bolton's Assistant Council Solicitor for 1974. They replace earlier, similar bearings first designed in 1890 by Major Ottley Perry.

These were the bearings replaced by the above.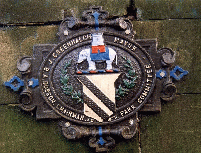 29k GIF 102k JPEG Coat of Arms on Queens Park Bridge from Spa Road March 2000
This earlier version of the arms is on a bridge leading from Spa Road to Queens Park.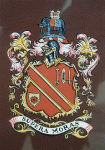 13k GIF 58k JPEG Coat of Arms of Bolton on side of bus 1999
This is from a preserved Bolton Transport bus.


17k GIF 63k JPEG Coat of Arms on display in St Peter's September 2000
This is in the museum of St. Peter's.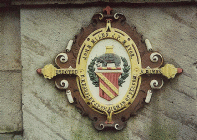 26k GIF 145k JPEG Edmund Street Bridge over the Croal arms April 2001
This set of arms is on the bridge over the Croal in Edmund Street, a similar crest appears on the bridge carring Marsden Road over Bark Street.


A full index is available to all these pages.

DISCLAIMER: Errors and Omissions Excepted.

[Home] [Bolton] [Index] [Gallery] [Webcam] [Updated] [Walk] [Drive] [Links]