[Home] [Bolton] [Index] [Gallery] [Webcam] [Updated] [Walk] [Drive] [Links]
St. Peter's of Bolton-le-Moors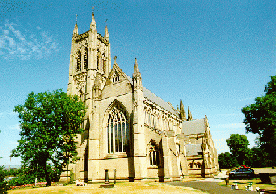 There is a selection of aerial pictures taken from the tower.
A 15th century church on this site was demolished after a closing service on April 8th 1866, making way for the construction of this one between 1867-71, and was paid for by Peter Ormrod who was a cotton spinner living in Halliwell Hall, at a cost of £40,000. The tower is 54 metres (180 feet) high. The new parish church was consecrated on June 29th 1871. The earliest entry in the Register of the former church was dated January 21st 1587.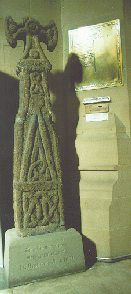 This is an Anglo Saxon Cross preserved inside the church from the 11th century building. This ancient cross was erected by J A Atkinson Vicar 1890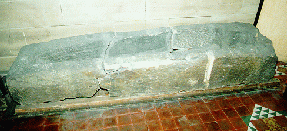 This is a stone coffin also preserved from the Saxon church. It was discovered when the foundations of the old church tower were being excavated.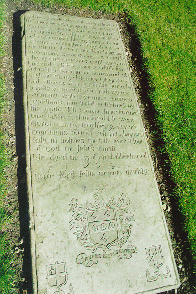 John Oakley is buried in the churchyard, whose tombstone recalls a puritan lifestyle, not always historically accurate.

John Oakley the servant of God was borne in London 1608. Came into this Towne 1629 Married Mary the daughter of James Crompton of Breightmet 1631, with whom he lived comfortably for 20 years & begot 4 souns & 6 daughters since then he lived sole till the day of his death. In his time there were many great changes & terrible alterations 13 years civil wars in England besides many dreadfull sea fights. The Crown or Command of England changed 3 times epscopacy laid aside 14 years London burnt by papists & more lately built againe. Germany walked 300 miles 200000 protestants murdered in Ireland by papists. This town thrice stormed once taken & plundered. He went through many troubles and diverse conditions. Found rest joy and happiness only in holmes the faith feare & love of God in Jesus Christ. He dyed the 29 of Ap & lieth here buried 1684. Come Lord Jesus O come quickly.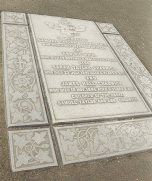 Another benefactor of Bolton, he built an orphanage in the Haulgh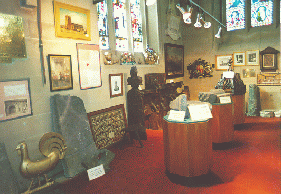 In addition, a number of other items have been preserved from the old churches, a weather vane, font cover, pictures of the older churches, the broken head of the cross shown above, medieval choir stalls and other various masonry.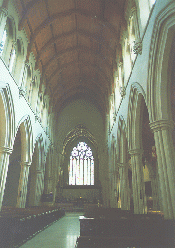 This view inside the church taken facing the east wing and altar, also showing the vaulted roof.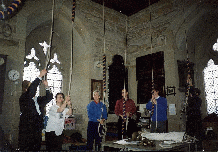 29k GIF 83k JPEG Bell ringing in St Peter's tower 1997
Members of the public can sometimes try their hand.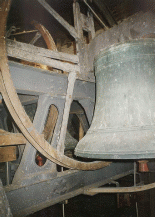 One of the bells in the bell tower.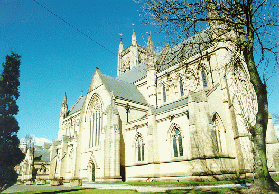 The southern wing of St Peter's, Oakley's gravestone is just in front of the church centre right of this picture.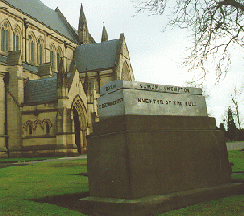 Samuel Crompton is buried here. The gravestone reads: Beneath this stone are interred the mortal remains of Samuel Crompton, of Bolton, late of Hall i'th' Wood, in the township of Tonge, inventor of the Spinning Machine called the Mule; who departed this life on the 26th day of June 1827, aged 72 years. "Mors Ultimo Linea Rerum Est."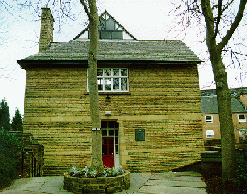 This Parish Hall used to be Bolton Grammar School which was built by R Knill Freeman opened on September 11th 1883, replacing the old school which stood on this site, originally built during Cromwell's Protectorate.


The church now have their own website at http://www.boltonparishchurch.co.uk/

Go into Churchgate on the virtual walk

DISCLAIMER: Errors and Omissions Excepted.

[Home] [Bolton] [Index] [Gallery] [Webcam] [Updated] [Walk] [Drive] [Links]