[Home]
[Bolton]
[Index]
[Gallery]
[Webcam]
[Updated]
[Walk]
[Drive]
[Links]
Churchgate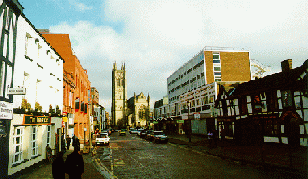 When Bolton was granted the charter in 1251 to hold a market, it was held here on Mondays until it became too large, when it moved to Market (now Victoria) Square in 1824. Churchgate used to be the entertainment area of Bolton, there used to be two theatres, the Grand and the Theatre Royal as well as the Capitol cinema. There also used to be a gateway or archway part way down towards the church itself. Silverwell Lane led into Silverwell Street.

At the entrance to Churchgate is the Marketgate Cross (pictured at bottom), which is close to the spot where James Stanley, the Earl of Derby was executed after the Civil War. Around the base of the cross are plaques detailing the history of Bolton. The orange building on the left is the site of the old cinema, which became a sports hall before its demolition and this office block being built in the 1980's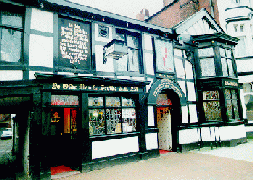 You may go inside the Ye Olde Man and Scythe Inn. A plaque outside states In this ancient hostelry, James Stanley 7th Earl of Derby passed his last few hours of his life previous to his execution Wed 15th October 1651.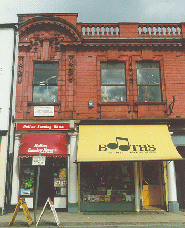 Sir Richard Arkwright had a barbers shop here before he moved to London, and invented his Water Frame. He was married to Patients Hold in St Peter's on March 31st 1755. The plaque above the newsagent reads: Sir Richard Arkwright inventor of the water frame for cotton spinning occupied a shop on this site as a barber and peruke maker from 1760 to 1768. He died August 3rd 1792 aged 60. Arkwright used to travel as a peruke (wig) maker to collect hair, and during one such expedition, he met with Kay, a clockmaker when he got interested in cotton machinery. Using water, he created a yarn known as water twist. This is not the original building, it long since been demolished and this one built in the late 1890's.


Go into the Sandwich Inn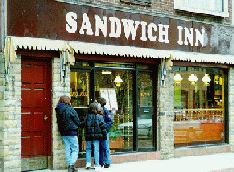 They have an interesting variation on the 'beefburger' and there's a long history to this shop. The present owners are direct relations of the purveyors of fine ice cream! (This closed of c2003).


Go to the parish church of St. Peter's


Have a look around the graveyard, find out more about the church and have a look inside.





19k GIF 70k JPEG St Peters at night December 2002

This is a similar night view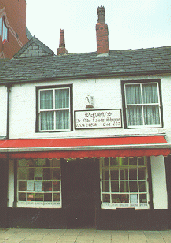 Here you can get meat and potato pasties, made and baked in the shop. First dated 1667, this timber framed building with Georgian bow windows is the only such example in Bolton.


Read the B.E.N.!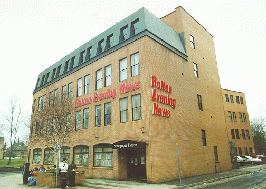 The evening newspaper moved here from its original premises in Mealhouse Lane and is part of the Reed group of newspapers, and an online copy is available. This building occupies the former site of the Grand Theatre.


http://www.cma-law.co.uk/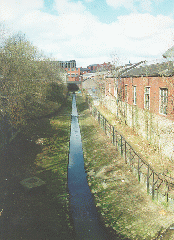 The paved River Croal runs towards and underneath Churchgate on its way to Farnworth where it joins the River Irwell. Until the incorporation of Bolton in 1838, this was a very dirty river, being used for sewerage. It was then paved in stages all the way from Queen's Park to and beyond here.




Go out of Churchgate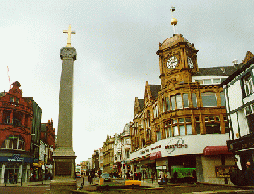 On the left hand side is the Marketgate Cross. At the base of the cross are plaques which detail the history of Bolton . The building to the right, Preston's of Bolton, is a jewellers with a time ball above its dome, which you can read more about.


You may also go back the way you came by hitting your browsers BACK button.

Please email the webmaster to request additional depth, detailing what you want to see.

DISCLAIMER: Errors and Omissions Excepted.

[Home] [Bolton] [Index] [Gallery] [Webcam] [Updated] [Walk] [Drive] [Links]