[Home]
[Bolton]
[Index]
[Gallery]
[Webcam]
[Updated]
[Walk]
[Drive]
[Links]
The Marketgate Cross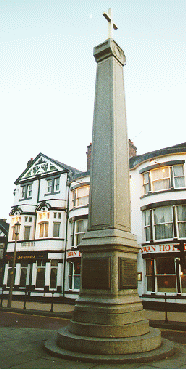 The site of the cross, close to the parish church, was from which John Wesley first preached to the citizens of Bolton, and many public announcements were made. One incident noted is that John Wesley was stoned and abused on August 28th 1748. Erected in 1482 of gilded iron in a circular stepped stone base, stood until 1776, when this cross was removed at the request of coachmen who claimed it caused an obstruction. A replacement was commissioned and paid for by George Harwood, MP for Bolton and unveiled by him on November 29th 1909. Three bronze plaques around the base of this cross detail the history of Bolton.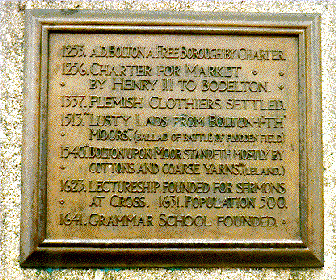 1253 A.D. BOLTON A FREE BOROUGH CHARTER
1256 CHARTER FOR MARKET
. BY HENRY III TO BODELTON.
1337 FLEMISH CLOTHIERS SETTLED.
1513 "LUSTY LADS FROM BOLTON-I-'TH'
. MOORS". (BALLAD OF BATTLE OF FLODDEN FIELD)
1540 "BOLTON UPON MOOR STANDETH MOSTLY BY
. COTTONS AND COARSE YARNS". (LEYLAND)
1623 LECTURESHIP FOUNDED FOR SERMONS
. AT CROSS. 1631 POPULATION 500
1641 GRAMMAR SCHOOL FOUNDED.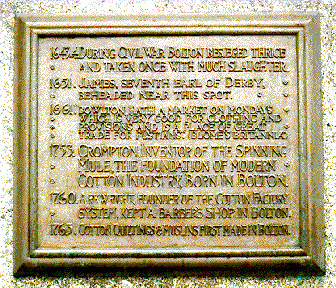 1643-4 DURING CIVIL WAR BOLTON BESIEGED THRICE
. AND TAKEN ONCE WITH MUCH SLAUGHTER
1651 JAMES, SEVENTH EARL OF DERBY,
. BEHEADED NEAR THIS SPOT.
1661 "BOWLTON HATH A MARKET ON MONDAYS
. WHICH IS VERY GOOD FOR CLOTHING AND
. PROVISIONS AND IS A PLACE OF GREAT
. TRADE FOR FUSTIANS". (BLOMES "BRITANNIA")
1753 CROMPTON, INVENTOR OF THE SPINNING
. MULE, THE FOUNDATION OF MODERN
. COTTON INDUSTRY, BORN IN BOLTON.
1760 ARKWRIGHT, FOUNDER OF THE COTTON FACTORY
. SYSTEM, KEPT A BARBERS SHOP IN BOLTON.
1753 COTTON QUILTINGS & MUSLINS FIRST MADE IN BOLTON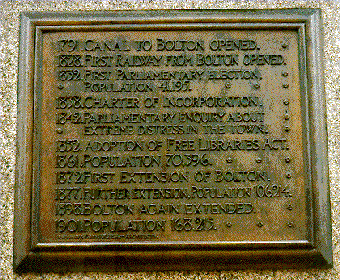 1791 CANAL TO BOLTON OPENED.
1828 FIRST RAILWAY FROM BOLTON OPENED.
1832 FIRST PARLIAMENTARY ELECTION.
. POPULATION 41,195
1838 CHARTER OF INCORPORATION.
1842 PARLIAMENTARY ENQUIRY ABOUT
. EXTREME DISTRESS IN THE TOWN.
1852 ADOPTION OF FREE LIBRARIES ACT.
1861 POPULATION 70,396.
1872 FIRST EXTENSION OF BOLTON.
1877 FURTHER EXTENSION, POPULATION 106,214.
1898 BOLTON AGAIN EXTENDED.
1901 POPULATION 168,215.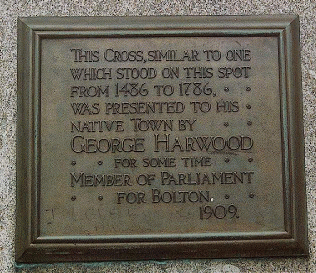 THIS CROSS, SIMILAR TO ONE
WHICH STOOD ON THIS SPOT
FROM 1486 TO 1786,
WAS PRESENTED TO HIS
NATIVE TOWN BY
GEORGE HARWOOD
FOR SOME TIME
MEMBER OF PARLIAMENT
FOR BOLTON.
1909

Go into Churchgate on the virtual walk

DISCLAIMER: Errors and Omissions Excepted.

[Home] [Bolton] [Index] [Gallery] [Webcam] [Updated] [Walk] [Drive] [Links]