[Home]
[Bolton]
[Index]
[Gallery]
[Webcam]
[Updated]
[Walk]
[Drive]
[Links]
Kearsley
Kearsley (Kersley), Ringley, Prestolee and Stoneclough lie in the Irwell valley, the river providing the basis for early settlement and industrialization. Early industry stated with handloom weaving, but coal brought papermaking, and the Bolton to Salford railway opened in 1838 to carry coal, likewise the Manchester, Bolton and Bury Canal during the 1790's, serving coal mines from the Clifton, Agecroft, Kearsley and Pendleton mines.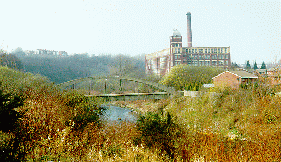 This is Kearsley Mill, now a retail area. Built as Kearsley Spinning Mill Company in 1906. The bridge you see was built in 1960 for a sewerage pipe over the River Irwell, linking the Hacken Sewerage works to Ringley. There is a sports and leisure centre here, the phone number is 01204 709250. South of here is Kearsley Moss.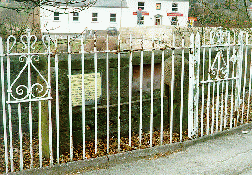 These stocks, near the ancient bridge have been preserved. The housing in the area were scattered farms and small villages. Today there are major residential areas with large housing estates. In common with many Northern towns, Ringley Wakes, a period of around two weeks, when the locals had time off work, but Ringley had gained some notoriety for them, sadly no programme of events exist today, but it's suggested that such events as Porridge Eating, Foot Race, Eating Matches and Smoking Matches were held! Below the bridge, there is a spot where Bull Baiting and Bear Baiting used to be held.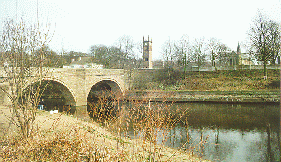 This picture shows the ancient bridge, and Ringley Chapel and Tower. Ringley Bridge was an important crossing point on the packhorse route from Bolton (leaving from the Swan hotel in Churchgate), but in 1866 a new bridge was built to the north. The tower has an inscription, showing it was built by Nathan Walworth in 1625. Ringley Chapel was consecrated in 1643 by John Bridgeman the Bishop of Chester.

Nathan Walworth - Walworthe - Wallwork - Wallwerk - was born in Ringley Fold 1572. His family had been settled in the area some time, in 1420, William Walwerk is mentioned as an occupier of "a pasture called Ryngleys". Nathan was born in Lancashire, but bred in Wiltshire, most likely in the house of a relative, he became steward to William the third Earl of Pembroke, and Philip who succeeded him in 1630. Nathan's letters are dated and sent from Baynard's Castle which stood on the North bank of the River Thames. These letters was sent to Peter Seddon, a resident of Prestolee who owned a family farm in the area. The name Ringley comes from Old English. Before the settlement, the area was heavily wooded, with Ringley a clearing. Hring meaning clearing and Ley meaning circular.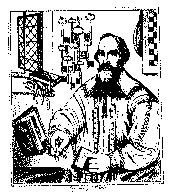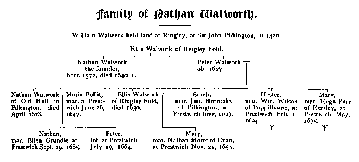 Wallwork Family Tree 114k JPEG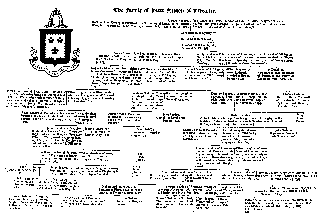 Seddon Family Tree 301k JPEG
Early industry was farming and coal, mining started around 1300. A pottery at Clammermouth used clay from the bed of the Irwell,. In 1752 James Brindley build a water engine to drain the Wet Earth pit near the Clifton Kearsley boundary, the work of which was extended to cover the Botany Bay colliery too, but rather than raise water, this wheel raised coal. The nearby canal was extended with a cut called Fletcher's Canal to carry coal from these two pits. Other pits in the area are the Ringley Colliery, the Outwood Colliery.
The worst mining disaster in Kearsley was the Unity Brook Disaster on March 12th 1878 where 43 men and boys died in an explosion. Among those named are Thomas Lever, 18, Samuel Wolstenholme, 50, William Wolstenholme, 23, John Tickle Lomax, 31, James Beattie, 19, Robert (40), David (13) and Jonathan (12) Enions, Andrew Walker, 22. All are buried at St. Stephens. In 1885 176 were killed in the Clifton Hall Colliery Explosion.
The first Mill, built around 1780 was situated where the River Croal and River Irwell meet, and powered by a wheel from a weir on the Croal. Near this spinning mill was a chemical works owned by Benjamin Rawson producing acid for the bleach and paper industry.
Thomas Bonsor Crompton built a steam and water powered mill c1833 adding to the 16 mills already in the Farnworth and Kearsley area. In 1826 Clammermouth Mill was built by Joseph and Robert Lord. Kearsley Spinning Mill, owned by Edmund Turner, was destroyed by fire in 1832, probably caused by a candle (used for lighting). Rawson's chemical plant stop producing vitriol in around 1834 and the plant was sold to a Mr Wilson but closed in 1875. John Livesey had a small paperworks at Dye House Mill, but five years after it closed, paper was bring made at Crompton's Mill in Ringley, later to be called Robert Fletcher and Son. By 1897 the Bankerfield Mill and the New Prestolee Mill were among the largest spinning mills in the country. Wet Earth pit closed in 1928 after 180 years of working. Even L.S. Lowry painted a picture entitled Pit Head Scene at Wet Earth in 1925.
Of the paper industry, these are the recorded mills during the early 1800's. Creams Mill, Little Lever, founded by James Crompton 1670. Farnworth Bridge Mill, founded 1680 by Robert Crompton. Lever Hall Mill, Great Lever founded 1718 by Ellis Crompton. Grundy's Mill, Little Lever, founded by James Grundy in 1760. Livesey's Mill, Prestolee, founded 1770 by John Livesey. Seddon's Mill Prestolee, founded by Thomas Seddon 1780. Springfield Mill, Bolton, founded 1820 by James and John Livesey of Prestolee. Stoneclough Mill, founded 1823 by Ralph Crompton, becoming Robert Fletcher and Son in 1859, Robert Fletcher himself living from 1804 - 1865.
Later industry includes a coal fired power station. Kearsley Power station was built in the late 1920's, water for cooling taken from the Irwell. The power station was closed, and demolished on May 12th 1985.
Water catchment for the River Irwell comes from the following. Link Road Stream, Middle Brook (site of Middlebrook complex), joined by Captains Clough, joining Jenny Beck to River Croal. Eagley Brook, joined by Astley Brook and Smithills Stream, joined at River Tonge into the River Croal. Billy Brook, Quarlton Brook, and Bradshaw Brook turning into Blackshaw Brook joining the River Croal.

A full index is available to all these pages.
DISCLAIMER: Errors and Omissions Excepted.
[Home] [Bolton] [Index] [Gallery] [Webcam] [Updated] [Walk] [Drive] [Links]