[Home]
[Bolton]
[Index]
[Gallery]
[Webcam]
[Updated]
[Walk]
[Drive]
[Links]
Middlebrook
This is the name for a new out of town complex, named after a tributary of the River Croal. The Bolton Wanderers Reebok Stadium is located here, as is a 12 screen multiplex cinema, operated by Vue. The official web site by the developers Emerson is http://www.middlebrook-bolton.co.uk. Also here are 24 hour supermarkets (Asda and Tesco), a Marks and Spencer Store (opening early 2006). An internet cafe, Cyberjungle [Note this has now ceased operating] was also located here, but closed 2002. It lies in the shadow of Horwich, between the M61 junction 6 and the Beehive roundabout.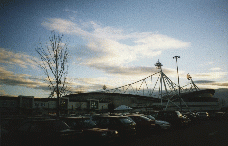 From the car park of the retail park, the modern styled towers of the stadium dominate the skyline. Bolton Wanderers play here. There is also a museum (entrance fee payable) tracing the history of the Wanderers. There is also a book with wartime history of the team, and there is more information at http://www.wartimewanderers.com/.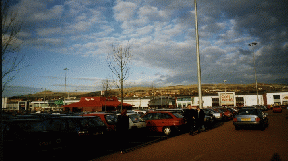 This view shows some of the retail units, and the shape of Winter Hill is unmistakable.

The park has won a grant, and this sees it into the next phase of development for a sports village.

The technologically complex is in the process of being built, and a web site for the Bolton Arena is at http://www.boltonarena.com/. It is due to open in spring 2001.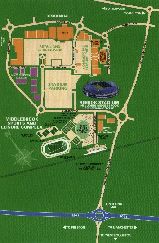 This map shows the current layout of the complex.


Cyberjungle Cafe situated here have a web site at http://www.cyberjungle.net/.

A computer component seller, Scan International have their retail premises here, and a web site at http://www.scan.co.uk/.

The Hobbycraft store has a web site at http://www.hobbycraft.co.uk/. NOTE: There is still a craft shop on the site, but not part of this chain.

Allders have a web site at http://www.allders.com/

Boots have a web site at http://www.boots.com/

ASDA have a web site at http://www.asda.co.uk/

Courts have a web site at http://www.courts.co.uk/

DFS has a web site at http://www.dfs.co.uk/

[Home] [Bolton] [Index] [Gallery] [Webcam] [Updated] [Walk] [Drive] [Links]

DISCLAIMER: Errors and Omissions Excepted.