[Home]
[Bolton]
[Index]
[Gallery]
[Webcam]
[Updated]
[Walk]
[Drive]
[Links]
Westhoughton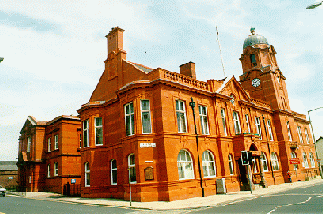 Earliest records show the hamlet that is today's Westhoughton was originally called Westhalcton in 1240, and Westhalghton in 1327. Politically this is Bolton West, also known as the pebble dashed voters who often decide the future government. The building above is the Town Hall, formerly of the Urban District Council but now a part of the metropolitan borough. Further down this page is a close up of the window decoration, but this town hall has two foundation stones. It was built in 1903 replacing the Local Board Offices.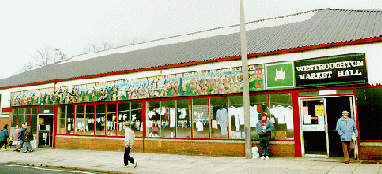 Men taken during the battle on Hart Common by the Royalists in 1642 are commemorated by a mural painted above the market hall. The mural reads:

OUR FORCES WILL NOT FLIE THROUGH EIGHTY MUSQUETEERS THEY CONFLICT WITH THE ENEMIE TO OUR GREAT LOSSE. GOD FIRES OUR MAGAZINE UPON THE COMMON AT HOUGHTON CHAPPEL 1642.




This town was brought into the Bolton Borough in 1900, a market town with some local industry. Mining was a principle occupation, and it was a hazardous occupation. On December 21, 1910, at Pretoria Pit in the town, an underground explosion killed 344 people leaving just 3 survivors. Mining was a family occupation, and the disaster was felt very hard.


The town lies about 4 miles south west of Bolton. The M61 Manchester to Preston motorway runs along the northern boundary. Market days are Thursday and Saturday. Various shops line Market Street, early closing day (when some shops close for the day from lunchtime) is Wednesday. A market square provides car parking, a supermarket and a number of other retail outlets, and a Chinese restaurant.

You can go inside a few shops and buildings in the town.

Westhoughton Youth Drop In is at 6 Bolton Rd, they have a website at http://wydi.co.uk/

An independent toy shop in the town http://www.tinniswoods.co.uk/ has a web site so you can have a virtual visit.

Westhoughton Folk Club have quite a reputation in the North West for bringing big names to their local venue, they have a website at http://www.folkclub.org.uk/.

The Westhoughton Rotary undertake a lot of charity work throughout the year. Their web site is at http://www.westhoughton-rotary.org/ .

Stephen Clarke has set up howfen.net as a local business directory, using a locally used slang name for Westhougton of Howfen. You can find it at http://www.howfen.net/

Quite recently Market street has undergone refurbishment, replacing the road surface, streetlamps and pavement, with the addition of discrete traffic calming. The town centre bypass road Cricketers Way leads east towards Chequerbent, or west to Dobb Brow (down Wigan Road). North along Bolton Road leads to Chew Moor.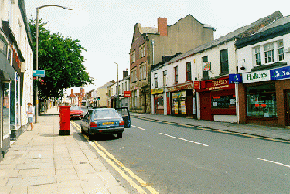 Locally the town is known as "Howfen", and also known as "Keaw Yed"! The latter of its names is surrounded by folk tales, but the most popular tells of a farmer who, when one of his cows heads became trapped in a gate, beheaded the cow, hence "Cow Head", or Keaw Yed in local dialect.

Another story suggests that a cows head, left over from an oxroasting celebration after the Napoleonic Wars of 1815, was mounted on a pole, while two opposing factions in the town fought over it.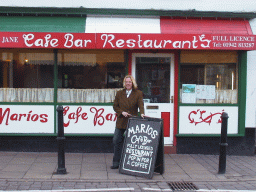 35k GIF 113k JPEG Marios Cafe Bar Jane Frappola 2003
Marios cafe bar is a family run coffee shop serving all day breakfast,teas ,coffees and a wealth of Italian and English cuisine. It is a well known meeting place for all age groups.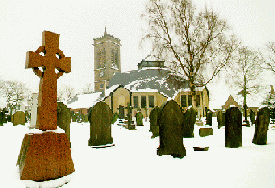 This is St Bartholomews. It has been rebuilt as the main part was destroyed by fire in 1992. The tower remained and the church reopened in late 1995. At the top of Church Street is Wingates.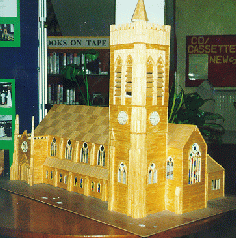 48k GIF 79k JPEG Scale model of the original St Bartholomews Church 1996
This model made from matchsticks by a local resident gives some idea of what the church used to look like.





Westhoughton likes to call itself "the little apple", with Central Park and Carnegie Hall, an attempted twinning with New York was turned down some years ago!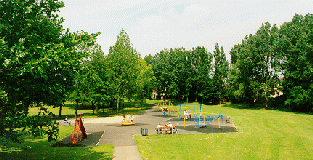 A town carnival is held annually in the park, and a procession of floats designed by local residents and organisations drives around the town, ending up in the park which contains craft stalls, entertainment and a fair. The carnival is opened by a famous personality each year, in 1992, Fred Talbot opened the carnival.


Westhoughton Sports and Leisure Centre has a swimming pool. The phone number of the centre is 01942 814030. Westhoughton High School have a web site. They also run an online newspaper at http://www.informer.org.uk/

Hall Lee Bank Park leads about a mile south to Daisy Hill, consisting of mixed woodland with a stream running though the middle.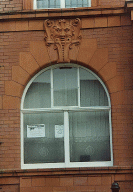 22k GIF 112k JPEG Westhoughton Town Hall window decoration April 2001
Each window is decorated in this way.


The White Lion Inn, at the corner of Market Street and Bolton Road was the house of Mr Grundy according the 1841 Census. It has also been a Post Office, letters were displayed in the window to the far left of the building.

As with many towns, developers have been trying to buy up the last remaining bits of green that actually make somewhere pleasant to live. Westhoughton has, or used to have quite a lot of green area and there is not much of it left. A local residents pressure group called SWAN (Save Westhoughton Act Now) have an ongoing campaign to preserve the quality of life, and they have a web site at http://www.swanonline.co.uk/.

DISCLAIMER: Errors and Omissions Excepted.

[Home] [Bolton] [Index] [Gallery] [Webcam] [Updated] [Walk] [Drive] [Links]