[Home] [Bolton] [Index] [Gallery] [Webcam] [Updated] [Walk] [Drive] [Links]
Bolton Little Theatre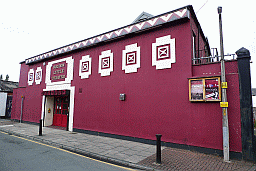 A popular theatre in Hanover Street just off Moor Lane. Contact the box office on +44 (0)1204 334400 for details on productions and booking.
The theatre has a web site at http://www.boltonlittletheatre.co.uk/.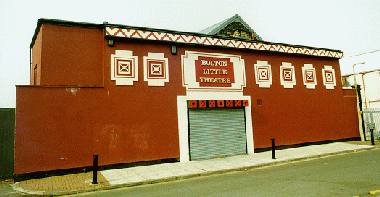 This production list from 2004 remains for historical reasons, please consult the web site above for current productions.
Quartet
by Ronald Harwood June 12th-19th 2004 A comedy set in a retirement home for opera singers Forge Studio
Tripe for Bolton Festival
by Roger Spencer (in house author) August 23rd - 28th Its 1954 in Bolton and the UCP tripe shop is as busy as the palais and the Grand theatre. Main Stage
Home and Beauty
by W. Somerset Maugham September 11th-18th 2004 Two husbands, one wife and many trouble makers in this classic farce Forge Studio
The Ghost Train
by Arnold Ridley October 14th - 23rd 2004 Ghostly apparitions and psychic stationmasters meet up in the waiting room of this classic comedy. Main Stage
Alice in Wonderland
adapted from Lewis Carroll November 27th - December 4th 2004 + Matinees This children's favourite comes to the stage at BLT. See the Mad Hatter, March Hare and all the rest. Main Stage
Classic Christmas
by Bolton Little Theatre December 15th - 18th 2004 an evening of Christmas readings, music, mulled wine and mince pies.
Skylight
by David Hare January 15th - 22nd 2005 A tale of passion, separation and self-reliance. Forge Theatre
Dick Barton - Special Agent
by Phil Willmott February 19th - 26th 2005 A take of daring-do, drama, of action, of danger and a whole lot of laughs Main Stage
Kes
by Barry Hines & Lawrence Till April 2nd - 9th 2005 The powerful story that became a hit film. Billy Casper has little in life except his kestrel which he raised and trained himself. A must-see event. Contains strong language and violence. Forge Studio
Brassed Off
by Mark Herman & Paul Allen May 7th - 14th 2005 The grimley pit is closing and with it will go the brass band unless someone can save them Main Stage

Telephone Bookings Bolton Little Theatre Box Office on 01204 524469 Open 6.15pm - 8pm from the Monday before each play and from 6.45pm on the week of the play For Booking enquires at other times please Telephone the box office manager on 01204 842252 between 7pm and 8pm
Albert Halls Ticket Centre on 01204 334400 Monday - Saturday 9am - 5pm
Old Production list

22nd Feb - 1st March 1997
California Suite by Neil Simon.
12th - 19th April 1997
Holy Ghosts by Romulus Linney.
17th-24th May 1997
Good Companions by J.B.Priestley and Edward Knoblock

DISCLAIMER: Errors and Omissions Excepted.

[Home] [Bolton] [Index] [Gallery] [Webcam] [Updated] [Walk] [Drive] [Links]