[Home] [Bolton] [Index] [Gallery] [Webcam] [Updated] [Walk] [Drive] [Links]
Bolton Town Hall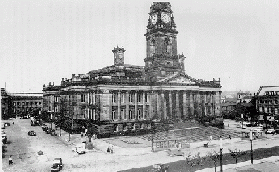 Taken before Newport Street was pedestrianised.




You can go out of the town hall and into Victoria Square, or stand on the town hall steps to start a virtual walk around Bolton.

The original Bolton Town Hall was opened on June 5th 1873 by HRH Prince Albert of Wales. The first recital of the great organ in the Albert Hall was on October 21st 1874.

Bolton Town Tall was ravaged by fire on November 14th 1981. This destroyed the original, old Albert Hall, but the rest of the building was saved. This was rebuilt into the new Albert Halls and Festival Halls, which are several function rooms. It also houses the central tourist information and information centre and ticket office. They also sell a range of local history books and souvenir items, as well as detailed information on Borough services and facilities, such as the Leisure Card giving discounts to regular use of facilities.

To contact the ticket and information office by telephone, call +44(0)1204 334400.
Details on forthcoming events
(Although the information is out of date, it is being retained and will be added to).
February 27th 1997. Bert Kaempfert Orchestra.
March 1st 1997. Doug Scott illustrated lecture on the Seven Summits
March 8th 1997. Sleeping Beauty by Adonais Ballet Company.
March 11th - 15th. Patience, Gilbert and Sullivan opera.
March 19th A Midsummer Night's Dream.
March 30th 1997. Richard Digance.
April 4th 1997. Mike Sweeny's 60's explosion (plus disco!)
April 6th 1997. Mr Men and the Magic Toyshop.
April 11th 1997. Joe Brown and the Luvvers
April 17th 1997. Elkie Brookes, "Pearls Anniversary".
April 18th 1997. Northern Jazz Orchestra.
April 21st - 26th 1997. Me and My Girl.
April 25th 1997. Richard Smith Guitar Trio.
May 3rd 1007. Danny (La Rue)'s Dazzling Music Hall.
May 8th-10th 1997. La Traviata.
May 30th 1997. Ken Dodd's Festival of Comedy.
May 31st 1997. Bolton Hospice Gala Concert.
June 20th 1997. An adult evening with Billy Pearce.

---

August 28th 2000. Spice-ish girls and Vengaboyz.
September 3rd - 14th 2000 A slice of Saturday Night the 60's musical
September 4th 2000 Stephen O'Brien 'In Touch With Eternity'
September 6th 2000 Abba Gold
September 14th 2000 Patrick Moore 'Into Space'
September 22nd 2000 John Coghlan's Quo
September 23rd and 24th 2000 Sing for your Supper with Farnworth Amateur Operatic and Dramatic Society.
October 13th and 14th 2000 Inspirations by the Bolton Floral Art Group
October 20th 2000 Magic of the musicals with Marti Webb and Dave Willetts
October 24th - 28th 2000 Pirates of Penzance by Bolton Catholic Musical and Choral Society (Broadway version of the Gilbert and Sullivan opera)
November 2nd 2000 Steeleye Span
November 5th 2000 Naughty Rhythms with Dr. Feelgood, Eddie and the Hot Rods, The Hamsters and John Otway.
November 8th 2000 Howard Marks, an audience with Mr. Nice
November 9th 2000 Syd Lawrence Orchestra
November 10th 2000 Julian Cope, an audience with the Cope
November 12th 2000 Rumours of Fleetwood Mac
November 18th 2000 Bolton Symphony Orchestra
November 19th 2000 European Ballet presents 'Sleeping Beauty'
November 21st 2000 Magic, a tribute to Freddie Mercury and Queen
November 22nd 2000 Bolton Floral Art Group
December 1st 2000 - 7th January 2001 Cinderella
December 11th 2000 Steps Beyond and Boyslife (tribute bands)
December 18th 2000 At the Hop
Go into Victoria Square on the virtual walk
Go into Le Mans Crescent on the virtual walk
DISCLAIMER: Errors and Omissions Excepted.
[Home] [Bolton] [Index] [Gallery] [Webcam] [Updated] [Walk] [Drive] [Links]