[Home]
[Bolton]
[Index]
[Gallery]
[Webcam]
[Updated]
[Walk]
[Drive]
[Links]
Great Moor Street (east)
You are between Bradshawgate and Newport Street. There is a Chinese Herbal Therapy Centre here, they have a web site at http://www.chtc.co.uk/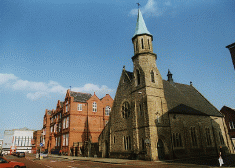 24k GIF 108k JPEG St Patricks in Great Moor Street August 2001
This is St. Patrick's Catholic church.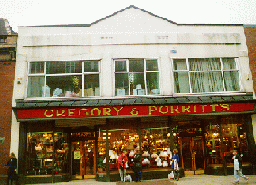 Gregory and Porritts are a long established store, specializing in lighting, but also has general hardware. This store has now closed, but reopened as another mainy furniture store.


Go to Bradshawgate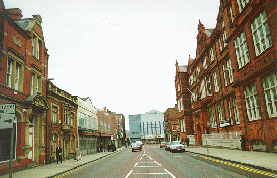 This will take you to the (now closed) Cannon cinema and Laserquest, and you can go north or south along Bradshawgate. On the right of the picture is the Great Moor Street annex of Bolton Institute. On the left, second building, is the old Turkish Baths, which used to be home to the housing advice centre.


Go to junction with Newport Street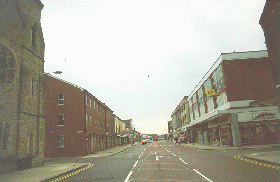 Leading towards the Water Place and Newport Street. The corner of St. Patrick's is on the left of this picture.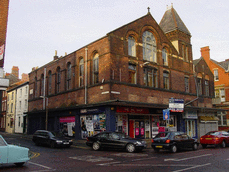 33k GIF 126k JPEG Mawdsley Street Congregational School (former) December 2002
The shop unit below is unused.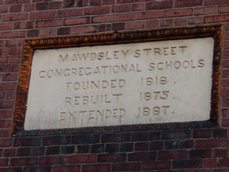 Close up. Mawdsley Street Congregational Schools Founded 1818 Rebuilt 1875 Extended 1887.


Go into Mawdsley Street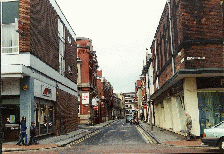 which will take you to Exchange Street, past a few interesting buildings.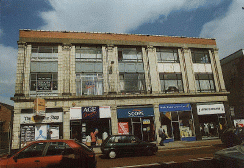 34k GIF 137k JPEG Row of shops with Dawn Dawson's school above August 2000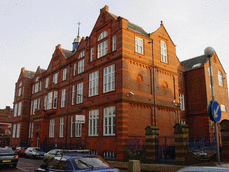 These have recently been converted into flats. This was the former arts annex to Bolton Institute.


You may also go back the way you came by hitting your browsers BACK button.

Please email the webmaster to request additional depth, detailing what you want to see.

DISCLAIMER: Errors and Omissions Excepted.

[Home] [Bolton] [Index] [Gallery] [Webcam] [Updated] [Walk] [Drive] [Links]