[Home]
[Bolton]
[Index]
[Gallery]
[Webcam]
[Updated]
[Walk]
[Drive]
[Links]
Last Drop Village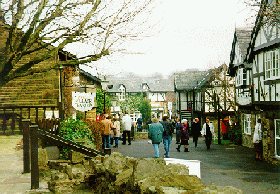 Just up from Bromley Cross is this strange but popular place. The 'last drop' could refer to several things, among them execution by hanging, or 'ducking'. Not a real village, it was an old collection of farmhouses, converted into popular shops and a public house, set in the grounds of a hotel and private leisure suite.

The so-called Millennium beacon was lit at the Last Drop Village this year, on new years eve 1999, forming one of a chain of many. (So called because the new millennium actually started in 2001, just to be pedantic!) Similarly, for the Queen's Golden Jubilee, the Last Drop served its role in a chain on beacons in June 2002.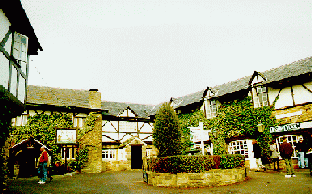 The fountain and wishing well centres in Market Place, with the Drop Inn on the left. Above the shops is the Penny Farthing Suite, a conference and exhibition area, used on some Sundays for an antiques fair. Among the shops is a bakery, tea room, bookshop (mainly old books) and several craft shops, one specializing in gemstones.

One shop that has been at the village since 1982 is the Milestone Shop with customised jewellery and a qualified gemologist, at http://themilestoneshop.co.uk/

The antique fair is now periodical, and details can be found at http://www.englishantiquefairs.co.uk/. Year 2000/01 dates are 7th May 2000, 4th June 2000, 2nd July 2000,6th August 2000, 3rd September 2000, 1st October 2000, 5th November 2000, 3rd December 2000, 7th January 2001, 4th February 2001, 4th March 2001, 1st April 2001.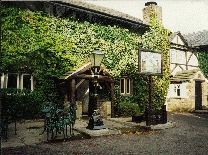 Just below the sign are a set of stocks.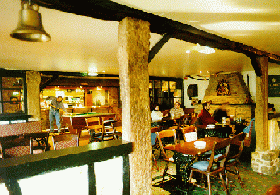 Open fireplaces and beamed construction add to the atmosphere of this public house. The Drop Inn has a magnificent daily buffet lunch, pick what you want and all you can eat from a traditional selection of food.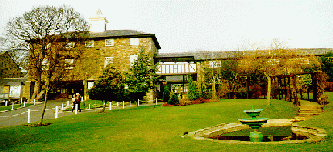 The shops lie beyond the archway. The buildings in this picture comprise the hotel's accommodation and dining area. You may contact the hotel on +44 (0)1204 591131.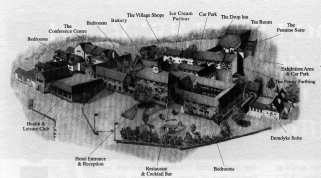 This map shows the general layout of the complex. The hotel and leisure club forming the central part, with the shops around the outside. Also included in the shops is a bakery, and a sweet shop.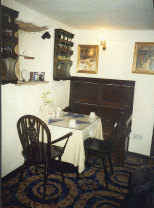 24k GIF 96k JPEG A place set for two in the tea shop 1996
Traditional tea, or coffee served here.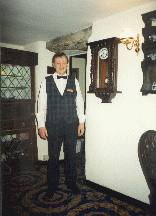 27k GIF 76k JPEG Bob the waiter from the tea shop 1996
The staff dress to the style of the village.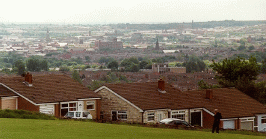 29k GIF 72k JPEG View of Bolton from Last Drop May 2000
Being on the upper part of the moors, there are good view of Bolton.





DISCLAIMER: Errors and Omissions Excepted.

[Home] [Bolton] [Index] [Gallery] [Webcam] [Updated] [Walk] [Drive] [Links]