[Home] [Bolton] [Index] [Gallery] [Webcam] [Updated] [Walk] [Drive] [Links]
Octagon Theatre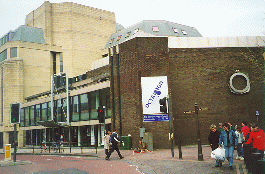 The name derived from the shape of the building, the Octagon opened on November 27th 1967 by Princess Margaret, designed by Geoffrey H. Brooks, and won a national Civic Trust award in 1968.

The design permits a central stage surrounded on all sides, called 'Theatre in the round', the first such in the country. The seating can also be rearranged to view a thrust stage.
Contact the box office on +44 (0)1204 520661 for details of current and forthcoming shows.
Or look for Bolton in UK Theatre Web, north-west section.
Go outside the Octagon into the virtual walk
A full index is available to all these pages.
DISCLAIMER: Errors and Omissions Excepted.