[Home]
[Bolton]
[Index]
[Gallery]
[Webcam]
[Updated]
[Walk]
[Drive]
[Links]
Overdale Crematorium
The following page contains a few pictures from the gardens of remembrance, and some detail of the operation of the crematorium at Overdale. Please don't read any further if you are likely to be upset by the detail, which is lower down this page. The postcode of the crematorium is BL1 5BU (use this in UK mapping websites to find the location). The phone number is (01204) 334499. For any information regarding relatives, please contact the superintendent at the above number.

Road directions. Due to a larger number of requests here are basic road directions from junction 5 of the M61 which is the closest motorway junction. If heading southbound (towards Manchester), come off junction 5 and go left on the A58 to Bolton. If heading northbound (towards Preston), come off at junction 5, and go right on the A58 to Bolton. This drops down a hill, keep in the left hand lane and turn left at the traffic lights, by the petrol station, signposted ringroad, still the A58. Follow this road through two sets of traffic lights, approximately 3 miles, then at the top get into the right hand lane for a right hand turn, As you turn, stay in the right hand lane (the left is a filter left) you'll be heading onto the A673. Approximately 2 miles on, you will see a sign for Overdale Crematorium, this is the entrance on the right. (Ladybridge).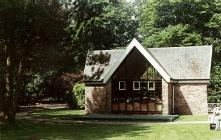 32k GIF 121k JPEG Overdale Chapel of Meditation June 2000
Chapel of Meditation containing the book of remembrance.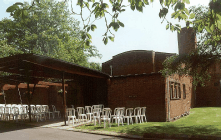 30k GIF 112k JPEG Overdale Crematorium west chapel entrance June 2000
West Chapel entrance to the crematorium.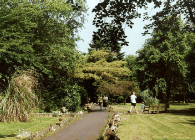 30k GIF 141k JPEG Overdale Garden of Remembrance June 2000
Eastern.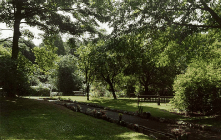 35k GIF 146k JPEG Overdale Garden of Remembrance June 2000
Northern.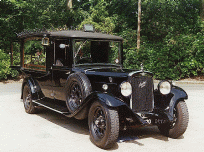 27k GIF 151k JPEG Hearse as used when Crematorium opened June 2000
The facility open in 1954, and this Austin Six was used as a hearse.


This crematorium is the major part of Bolton's funeral service. All faiths that permit cremation can take advantage of the facility, and witnessing of any part is possible by prior arrangement.

After the curtains have closed, the body and coffin is removed to an ante chamber, ready to load onto an electric trolley. The ID tag is attached to the outside of the cremator, the name entered into the computer, and once the cremator is at temperature, a door opens, protected by a fine spay mist of water (preventing flashbacks) and the electric trolley loads the coffin. The computer adjusts the gas and air mixture for optimum combustion and after between 1.5 to 2 hours, a short cooling down period, then the remains are ready for raking. Only the larger but now quite brittle bones remain, such as the skull and thigh bones. These fall into two lower chambers, again with the ID card, and after a further period of cooling, are raked into a steel pan. Meanwhile the cremator is in operation again.

The final hard remains are placed in the cremulator which breaks these down into fine dust, this is a large drum with ball bearings and the contents fall into a collection pot, again with the transferred ID card. Finally, these are either placed in a box for collection by relatives of the deceased, or are scattered in the gardens by a strict rotation. The computer prints a report which is kept on file.

There are a total of 5 cremators, and a maximum of 25 cremations can be carried out in a working day. The brick linings need replacing every 8 months. The facility opened in 1954 and was updated in 1990. The crematorium have complete records detailing all cremations and locations of which gardens were used for scattering.


Please email the webmaster to request additional depth, detailing what you want to see.

DISCLAIMER: Errors and Omissions Excepted.

[Home] [Bolton] [Index] [Gallery] [Webcam] [Updated] [Walk] [Drive] [Links]