[Home]
[Bolton]
[Index]
[Gallery]
[Webcam]
[Updated]
[Walk]
[Drive]
[Links]
The Water Place
A £5m development, opened on December 1st 1988 by Queen Elizabeth II.

The facility was closed and demolished during 2004-2005. This page remains as a historical record of its existence.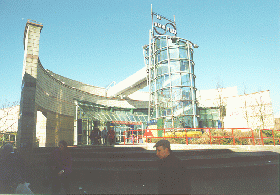 35k GIF 118k JPEG Water Place entrance and slide tower c1996
Go onto Great Moor Street on the virtual walk.
[Home] [Bolton] [Index] [Gallery] [Webcam] [Updated] [Walk] [Drive] [Links]
DISCLAIMER: Errors and Omissions Excepted.