[Home]
[Bolton]
[Index]
[Gallery]
[Webcam]
[Updated]
[Walk]
[Drive]
[Links]
Derby Street
There is a set of old pictures from this area starting with this page and four further pages.

The end of Derby Street is the junction with Trinity Street. Centre right is an old school building, now occupied by the BIHE Students Union, and lower down are a few pictures from 1970's.


It is possible to go to the junction of Deane Road and Moor Lane.

Go onto College Way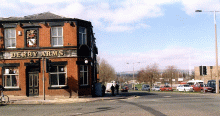 20k GIF 69k JPEG view north from end of Derby Street April 2000
The Derby Arms on the corner of College Way.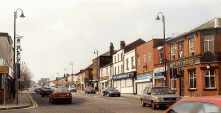 20k GIF 67k JPEG Derby Street up to Daubhill March 2000
Up towards Sunning Hill.


Go to Bolton Institute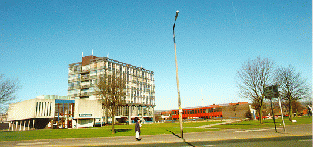 Go into Trinity Street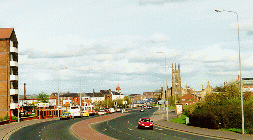 to the Water Place or to the bus - rail interchange.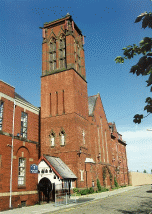 26k GIF 98k JPEG St Peter and St Paul's RC church
Up Fletcher Street.


Go onto Moor Lane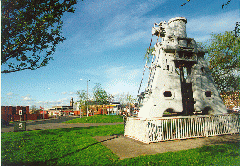 This will take you past Ashburner Street and market, to the far end of Deansgate.


Go into Modern Radio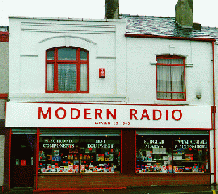 An electronics shop.


Next door is Exford Computer Systems, http://www.exford.co.uk/. (awaiting updated junction photo). Also a little further up is Paul Davies Discount Domestics at http://www.discountdomestics.com/.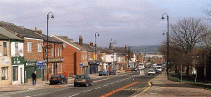 19k GIF 88k JPEG Derby Street to town centre March 2000
Lower mid Derby Street.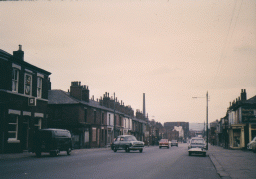 30k GIF 443k JPEG Derby Street from Pilkington Arms / Lord Nelson 1972 by permission
This may be a similar view to the above, but in 1972.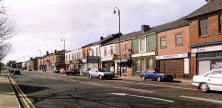 20k GIF 72k JPEG Derby Street up to Sunning Hill March 2000
From lower mid Derby Street up towards Sunning Hill.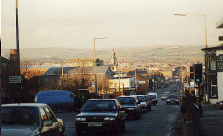 Taken as the early evening sun sets over Bolton and the rush hour traffic makes its way out of Bolton.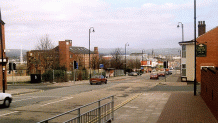 22k GIF 72k JPEG Derby Street and Derby Mill March 2000
This is looking down towards the town centre, with Sunning Hill behind you. The Derby Mill is on the left with the town hall clock visible in the distance.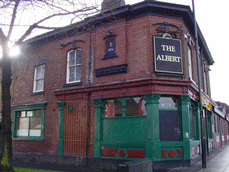 34k GIF 131k JPEG The Albert, Derby Street February 2003
.




Grey Man on Derby St
This next set of three pictures are courtesy of Dennis Jackson.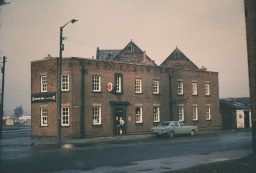 32k GIF 538k JPEG Grey Man with Mr and Mrs Annie Ridings 1972 by permission
The last landlords.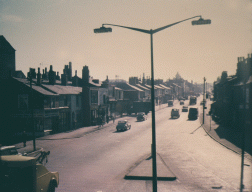 37k GIF 466k JPEG View west up Derby Street fom the Grey Man 1972 by permission
A very large number of the buildings, on both sides of the road no longer exist.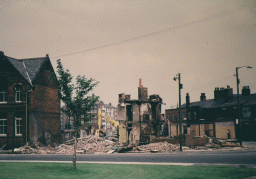 34k GIF 597k JPEG Grey Man demolished 1972 by permission
With this building demolished, you can see clearly the school behind it.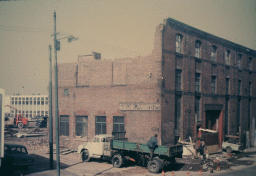 34k GIF 603k JPEG Gregory and Porritts Warehouse demolition 1972 by permission
Being demolished.


You may also go back the way you came by hitting your browsers BACK button.

Please email the webmaster to request additional depth, detailing what you want to see.

DISCLAIMER: Errors and Omissions Excepted.

[Home] [Bolton] [Index] [Gallery] [Webcam] [Updated] [Walk] [Drive] [Links]