[Home] [Bolton] [Index] [Gallery] [Webcam] [Updated] [Walk] [Drive] [Links]
Exchange Street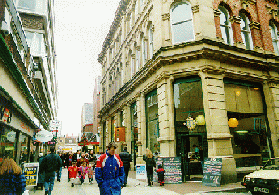 You are in Exchange Street. There is a newly enlarged HMV - a record shop (http://www.hmv.co.uk/), a sandwich shop, and a curio gift shop. St Andrews Court backs onto this street, as well as an entrance from Mawdsley Street. This leads on to Nelson Square, and to Victoria Square.


You can enter the Crompton Place shopping centre, which leads to Hotel Street, Bradshawgate and Shipgates.

Go into Mawdsley Street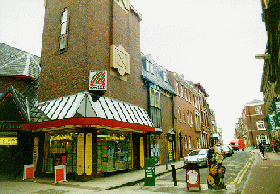 Mawdsley Street will take you to Great Moor Street, you can also get into St. Andrews Court, and you can take a look at the old Bolton Technical School.


Go right into St. Andrews Court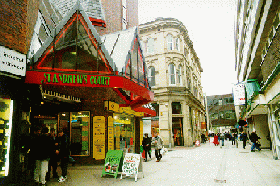 St. Andrews Court leads towards Nelson Square, containing a variety of shops.


Go into Nelson Square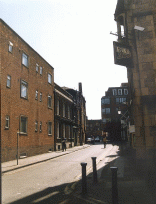 20k GIF 76k JPEG Bowkers Row from Exchange St. April 1999
Leading to Bradshawgate. There is a view similar to this in the second set of old Bolton pictures.

You may also go back the way you came by hitting your browsers BACK button.
Please email the webmaster to request additional depth, detailing what you want to see.
[Home] [Bolton] [Index] [Gallery] [Webcam] [Updated] [Walk] [Drive] [Links]
DISCLAIMER: Errors and Omissions Excepted.