[Home]
[Bolton]
[Index]
[Gallery]
[Webcam]
[Updated]
[Walk]
[Drive]
[Links]
Knutshaw Bridge
At this point the A58 ring road splits to go north into Beaumont Road and the A676 to Rumworth. West of here is Hunger Hill. The derivation of the name may be from the personal name 'Knut' (as in Canute, King Canute) and 'sceaga' or 'shay' meaning copse, overall the copse belonging to Cnut. Early references spell this Noteshaye and Nutshell.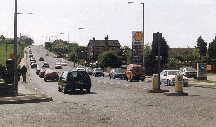 23k GIF 72k JPEG View up Hunger Hill Summer 1999
Going up this road will take you to Hunger Hill.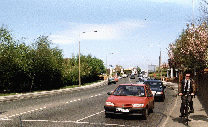 20k GIF 84k JPEG View up to Rumworth summer 1999
This ascends towards Rumworth.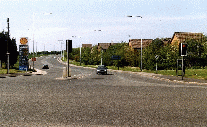 20k GIF 75k JPEG View into Beaumont Road summer 1999
This takes you into Beaumont Road.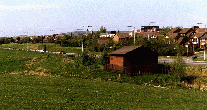 18k GIF 71k JPEG Knutshaw Brook valley summer 1999
In the middle foreground in the course of the Knutshaw Brook. In the background, the outline of Winter Hill with the Pike to the left and the mast central.





Please email the webmaster to request additional depth, detailing what you want to see.

DISCLAIMER: Errors and Omissions Excepted.

[Home] [Bolton] [Index] [Gallery] [Webcam] [Updated] [Walk] [Drive] [Links]