[Home]
[Bolton]
[Index]
[Gallery]
[Webcam]
[Updated]
[Walk]
[Drive]
[Links]
Market Hall and Market Place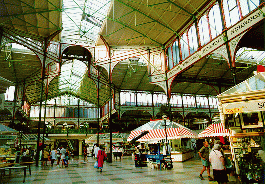 The Market Hall is a refurbished victorian building opened by Queen Elizabeth II on December 1st 1988. It is home to many small independent stalls. There are several butchers and fruiterer, as well as clothing, hardware and pet shops. You will also find a bakery, several gift shops, and a few places to eat. The roof structure is refurbished but retains its original design and shape. Ahead leads to the Market Place. It was originally built by Charles Tomkinson in the early 1800's.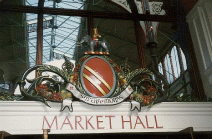 These are above each door, this one is over the entrance from Market Street.


21k GIF 65k JPEG Original Market Hall opening and alterations plaque
The original Market Hall opened on December 19th 1855 on the site of a former bowling green, the site of the market place in Victoria Square is where the town hall stands now. A fish market was built alongside which opened on December 22nd 1865, but was demolished around 1930 when the Ashburner Street market opened in September 1932. In 1894 the original Market Hall was altered to provide shops on Knowsley Street and Corporation Street.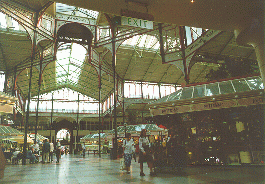 The doorway centre left leads onto Market Street and Deansgate.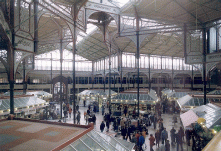 35k GIF 121k JPEG View from balcony of Market Hall March 2000
Market Hall.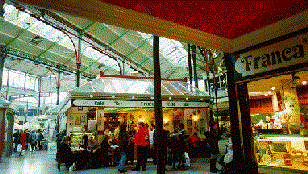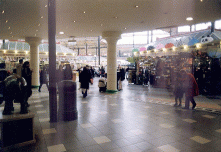 28k GIF 86k JPEG View into Market Hall from Market Place March 2000
Leading from the market hall is a complex of new shops and department stores.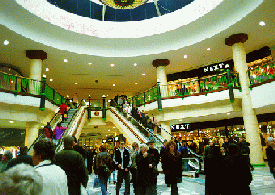 This is the entrance to Market Place from the market hall. This lower mall leads to a fountain and seating area, and glass lifts (elevators) complementing the modern design, which connect directly with a multi storey car park, the top of which gives good aerial views of the town.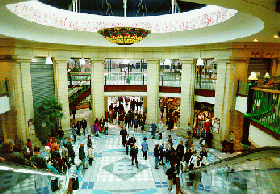 This is where the old Victorian market hall ended. Going right will take you to Knowsley Street, going left will take you into Bridge Street. Going ahead through the hall will take you into Market Street onto Deansgate.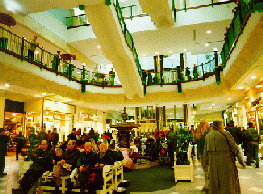 Two glass lifts (elevators) can be seen driven by push rods, stairs above from the upper mall, and in the foreground a fountain with seating. The lifts connect to the multi storey car park, the top of which gives good aerial views of the town.


Go out of the Market Hall and Market Place and virtual walk into Knowsley Street or Bridge Street.

A full index is available to all these pages.

DISCLAIMER: Errors and Omissions Excepted.

[Home] [Bolton] [Index] [Gallery] [Webcam] [Updated] [Walk] [Drive] [Links]