[Home]
[Bolton]
[Index]
[Gallery]
[Webcam]
[Updated]
[Walk]
[Drive]
[Links]
Bolton at Yuletide 2003
This updated page features some pictures of Bolton at Yuletide. The page from 2000 is still online. The page from 2002 is still online.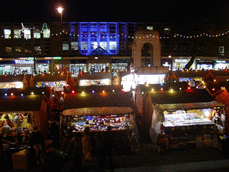 32k GIF 116k JPEG Victoria Square Market December 2003
It was hoped this year to put up pictures of a few towns and houses dresed for the season, however on visits to Bolton, the weather was so generally wet and unsuitable for photography that no pictures have been made.

Please email the webmaster to request additional depth, detailing what you want to see.
DISCLAIMER: Errors and Omissions Excepted.
[Home] [Bolton] [Index] [Gallery] [Webcam] [Updated] [Walk] [Drive] [Links]