[Home]
[Bolton]
[Index]
[Gallery]
[Webcam]
[Updated]
[Walk]
[Drive]
[Links]
Doffcocker
The derivation of this name is not clear, but it believed to be formed from the Celtic 'dubh' meaning dark or black, and the Celtic 'cocr' meaning a winding stream, so we get 'dark winding stream' which indeed leads to Doffcocker lodge. This same stream forms Captain's Clough, goes underground before Ivy Road, emerges beyond Shepherds Cross Street and fills Mortfield Lodges, before finally joining the River Croal at Chorley Street.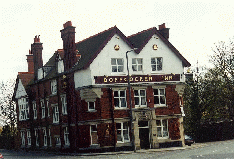 The Doffcocker public house stands opposite where an old toll house stood. This is not the original building, but the pub is what is known as a calendar pub. The sign on the pub shows another possible, but unlikely derivation for the name, a man 'doffing' or removing his 'cockers' (boots) to wade across a stream.


North east of here is Moss Bank Way, east is Halliwell, west is Johnson Fold, south of here is Heaton. South-west takes you down Chorley Old Road towards the town centre.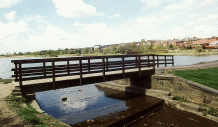 This is a view over Doffcocker Lodge, a haven for wildlife.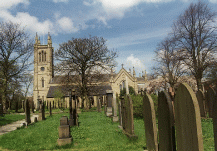 30k GIF 122k JPEG St. Peter's church Doffcocker 1996
Please email the webmaster to request additional depth, detailing what you want to see.
DISCLAIMER: Errors and Omissions Excepted.
[Home] [Bolton] [Index] [Gallery] [Webcam] [Updated] [Walk] [Drive] [Links]