[Home]
[Bolton]
[Index]
[Gallery]
[Webcam]
[Updated]
[Walk]
[Drive]
[Links]
Moss Bank Park
Moss Bank Park is home to Animal World. The Butterfly House was moved here from Queen's Park. Butterflies fly free in a tropical environment, while in Animal World, a unique living environment has been created for many animals, from farmyard to tropical birds. You can call the park for further details on +44 (0)1204 334050. Admission is free. The tower in the aviary was originally built as an astronomical observatory by John Horrocks Ainsworth (d. 1864), the Ainsworth family used to live here. Also here is the Walled Garden.

Radio One's Sara Cox appeared at Moss Bank Park on 30th July 2000. A park and ride scheme was being operated from Middlebrook.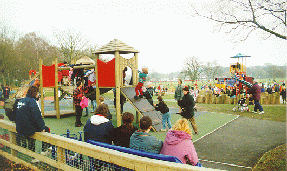 Just off the A58 ringroad, Moss Bank Way, is this park, very popular on Sundays with a children's playground.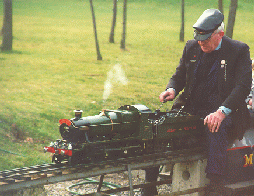 A model steam engine runs on a small track in the park, taking visitors on a small circular trip.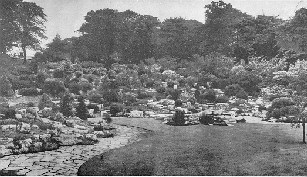 This was taken for the Bolton Book in the 1920's.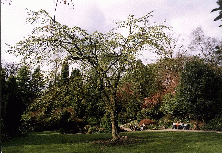 The tree in the centre is the George V memorial tree, planted during his reign as King.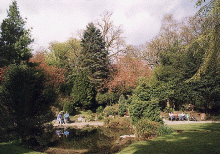 31k GIF 191k JPEG Moss Bank Park gardens June 1999
The gardens are very tranquil.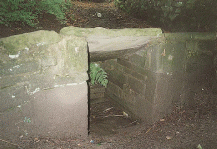 Under this stone there is a spring, one of a number in the area forming from the moors.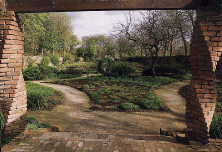 34k GIF 188k JPEG Moss Bank Park walled garden May 1998
This is the gateway into the walled garden.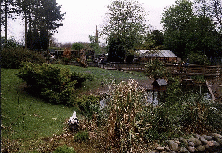 33k GIF 154k JPEG Animal World duck pond April 1999
In the centre of this picture note you can see the chimney from Barrow Bridge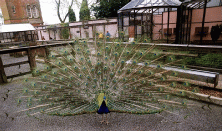 Peacocks roam freely around the park, and this put on a fine display.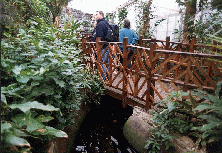 This is inside the tropical environment of the butterfly house. Inside you can see pupae and butterflies, also some spiders and fish. The butterflies fly freely in the tropical environment.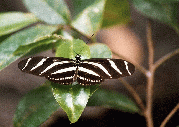 18k GIF 52k JPEG Resident of butterfly world April 1999
DISCLAIMER: Errors and Omissions Excepted.
[Home] [Bolton] [Index] [Gallery] [Webcam] [Updated] [Walk] [Drive] [Links]