[Home]
[Bolton]
[Index]
[Gallery]
[Webcam]
[Updated]
[Walk]
[Drive]
[Links]
Deansgate junction with Knowsley Street and Oxford Street
Go north into Knowsley Street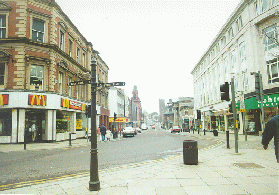 This will take you into the Market Hall and up to St. George's Road and the craft Centre. The red coloured tower on the left down the street belongs to the Victoria Hall, the dark, square tower in the distance is of the craft centre.


Go south into Oxford Street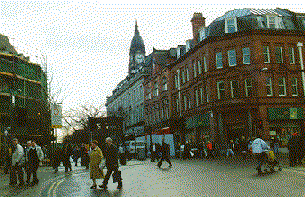 Leading past the steam engine into Victoria Square, you'll get a closer look at the engine itself.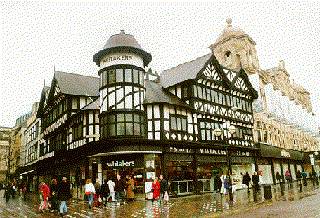 This is Whitakers, an independent department store. The whole building belongs to the store, and it has a basement too. It sells fashions and housewares. The buff coloured part of the building on the right used to be a public hall, built in 1912 called the Aspin Hall. Whitakers have a web site at http://www.whitakers.org.uk/


Go west to end of Deansgate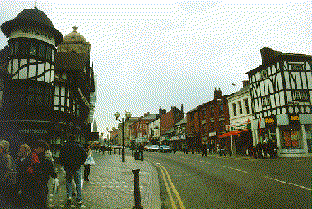 To Moor Lane, past Bolton Little Theatre. You can just see the spire of St. Paul's church which is on Moor Lane, to the right of the building on the left of this picture. If you turned right, down Central Street was the Antiques centre, which has now moved to Great Moor Street.


Go east along Deansgate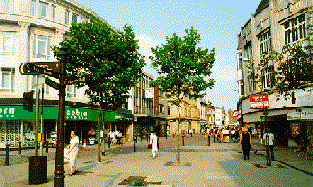 Which will take you past Market Street and to the junction with Mealhouse Lane and Bridge Street. You can go onto Bridge Street, into the Market Hall, or further down towards Churchgate.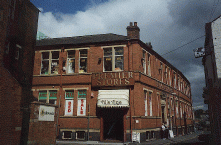 26k GIF 124k JPEG Central Street view north July 2000
Down here was the antiques centre, until it relocated to Great Moor Street.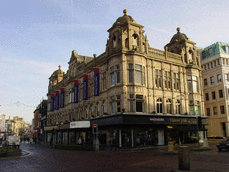 34k GIF 107k JPEG Whitakers Department Store Howell Croft North December 2002
Alternate view.


You may also go back the way you came by hitting your browsers BACK button.

Please email the webmaster to request additional depth, detailing what you want to see.

DISCLAIMER: Errors and Omissions Excepted.

[Home] [Bolton] [Index] [Gallery] [Webcam] [Updated] [Walk] [Drive] [Links]