[Home]
[Bolton]
[Index]
[Gallery]
[Webcam]
[Updated]
[Walk]
[Drive]
[Links]
West end of Deansgate
Go into Moor Lane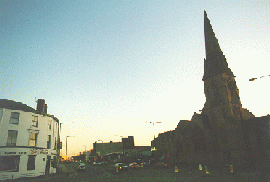 Talking you into or past Ashburner Street and market, and up to Bolton Institute and Derby Street. You can also pop to see Bolton Little Theatre. and get a better view of St. Paul's. The White Lion public house is on the left.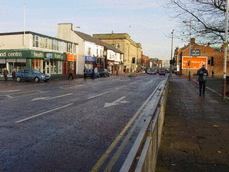 33k GIF 126k JPEG West End of Deansgate December 2002
.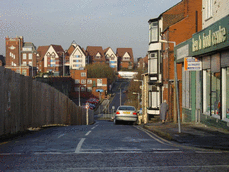 This ran at the rear of the old fire station building (now demolished).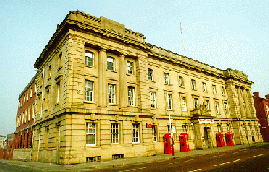 This opened on November 19th 1916. The post office moved from here to Victoria Square, then moved back again. Four traditional red telephone boxes stand outside this neo-georgian columned building. This is the head post office for Bolton, Bury and Wigan, the sorting offices lie some way out of town. The last time for collection at this office is 8.30pm weekdays, Sunday collection at 2.00pm.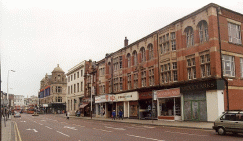 28k GIF 71k JPEG Deansgate west end view east March 2000
This is opposite the post office above, the Bolton YMCA is amidst these buildings.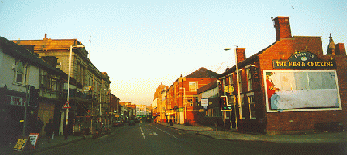 Hen and Chickens pub.


Go into Blackhorse Street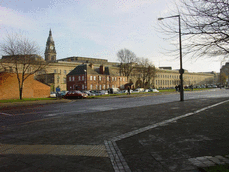 32k GIF 128k JPEG Blackhorse Street from Deansgate December 2002
Leading to Ashburner Street and market.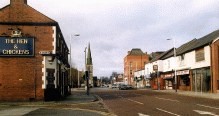 On the left was the site of the Bolton Hippodrome.


Go east along Deansgate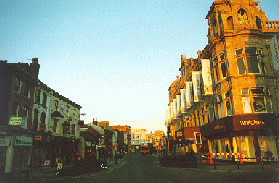 33k GIF 96k JPEG Deansgate midway down at Sunset 1997
This will take you to the junction with Knowsley Street and Oxford Street. You can head towards Victoria Square or carry on down Deansgate.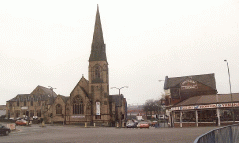 19k GIF 48k JPEG View into Spa Road from end of Deansgate March 2000
To the right of this view is Marsden Road, straight on is Spa Road to Park Road. On the right hand corner of the junction is ESB Motorcycles, with a web site at http://www.esb-motorcycles.co.uk/.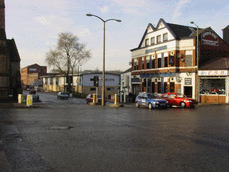 32k GIF 92k JPEG Gypsy's Tent pub and Spa Road December 2002
This updated view shows in the distance a new ports complex built on the former site of the old Nevada roller rink.


You may also go back the way you came by hitting your browsers BACK button.

Please email the webmaster to request additional depth, detailing what you want to see.

DISCLAIMER: Errors and Omissions Excepted.

[Home] [Bolton] [Index] [Gallery] [Webcam] [Updated] [Walk] [Drive] [Links]