[Home]
[Bolton]
[Index]
[Gallery]
[Webcam]
[Updated]
[Walk]
[Drive]
[Links]
Moses Gate
At the northern end of Farnworth, Moses Gate leads north west to Burnden, north east to Darcy Lever, and east to Little Lever.

The name is not a personal name, but a corruption of the word 'mosses' meaning peaty or marshy lands, and gate is from the Old English 'gata' meaning a way across, so we have the way though the mosses (Kearsley Moss, Clifton Moss, Linnyshaw Moss etc.)

One of the old Toll places in Farnworth was at Moses Gate. It's said that the toll keeper was called Moses, and he died in 1876. The toll would expire on November 1st of that year, many people contested to have the honour of paying the last toll, and the Farnworth Brass Band played "Auld Lang Syne".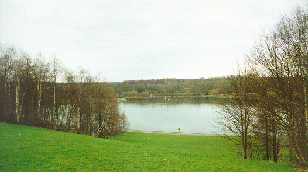 This is a view over Moses Gate Country Park between Moses Gate and Little Lever.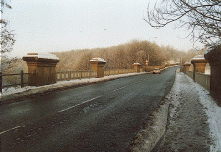 28k GIF 141k JPEG Great Lever Bridge over the River Tonge January 2001
Leading towards Little Lever.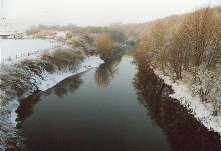 30k GIF 138k JPEG River Tonge joined by Bradshaw Brook from Great Lever Bridge January 2001
This bridge connects Moses Gate to Little Lever.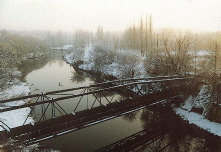 29k GIF 134k JPEG River Tonge flowing south to meet the River Croal January 2001
The river leads to the BOlton and Bury Canal.


Please email the webmaster to request additional depth, detailing what you want to see.

DISCLAIMER: Errors and Omissions Excepted.

[Home] [Bolton] [Index] [Gallery] [Webcam] [Updated] [Walk] [Drive] [Links]