[Home]
[Bolton]
[Index]
[Gallery]
[Webcam]
[Updated]
[Walk]
[Drive]
[Links]
Bored, bored, bored???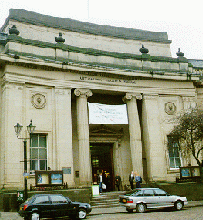 There's the free museum and art gallery in the library opposite the town hall. The museum has a collection of local history items, and an Egyptian collection. In the basement of the library is an aquarium. The reference section has a lot of local history material.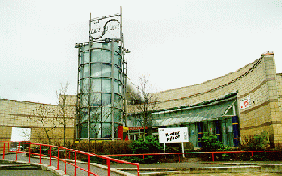 The Water Place is a swimming and fun pool complex, opened in 1988 by Queen Elizabeth II. Two fast shoots, rubber ring ride, wave pool, giant jacuzzi, waterfall and flying elephants in a sub tropical climate.


A multi screen cinema at Middlebrook hosts the latest films, and Laser Quest on Bradshawgate for some real live electronic shoot-em-ups.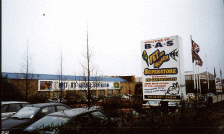 17k GIF 81k JPEG Bolton Aquatic Superstore February 1999
Bolton Aquatic and pet superstore is worth a look around, even if you do not buy any fish. Great on a rainy day, they have a fine collection of marine fish as well as tropical fish. Web site at http://www.britains-aquatic.co.uk/ and it is located at the top end of Folds Road towards Tonge.




The Albert Halls complex in the town hall regularly stage shows, concerts and exhibitions, call the ticket and tourist information centre on +44 (0)1204 334400 for details.

Visit Moss Bank Park and Animal World. Animal World is host to Butterfly World as well, entry is free to both.

Visit Leverhulme Park, one of the many gifts to the people of Bolton from Lever, or view the Terraced Gardens, all that is left of his former home.

Look at more of Bolton's history at Hall Ith Wood museum dedicated to Samuel Crompton, or visit Smithills Hall.

Visit St. Peter's of Bolton-le-Moors where tours are arranged by appointment, you can look around the museum.

The Last Drop Village for a fine buffet meal with 'all you can eat' and a number of shops.

Jumbles reservoir has a number of walks and nature trails.

Queens Park quite close to the town centre is ideal for a quiet walk away from it all.

Smithills Hall and Estate and Smithills Hall provide local history interest and outside nature trails.

Turton Tower and grounds.

[Home] [Bolton] [Index] [Gallery] [Webcam] [Updated] [Walk] [Drive] [Links]

DISCLAIMER: Errors and Omissions Excepted.